I love hardboiled detective stories - Chandler, Hammet, Spillane. What's more, I love hardboiled fantasy detective stories - Jim Butcher's Dresden Files & Simon Green's Nightside series especially. I've been working on something in the genre set in Singapore for a while now, but before that one, I'd thought of a premise, a tiny germ of an idea for something several years ago. It's been sitting on a shelf in my brain for a while now. Last week, I dusted it off after getting a prompt. A story ensued.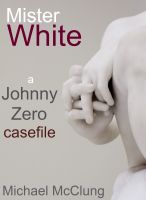 There's a lot going on to this story; the setting is an alternate America where magic is real, and mages have suffered from witch hunts, both political and literal, in the past. The specific city where the story takes place is Los Magi, commonly referred to as Miracle City, and it's a place that shares elements of modern day Las Vegas and Los Angeles of the 1930's. It's also not unlike
Brigadoon
.
I don't want to give away any plotty stuff, so I'll just say that I had a lot of fun writing down Johnny's casefile and meeting his partner. I'm quite sure Johnny will be back around to tell us about some of his other cases, sunglasses firmly in place, day or night.